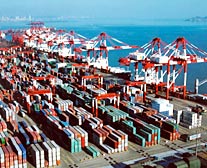 Chinese Minister of Commerce Bo Xilai predicted Friday that China's imports may reach US$1 trillion by the year 2010.
The minister said in a speech at the International Forum on the Common Development of China's Economy and the World Economy that his country's imports are expected to hit US$500 billion this year.
Bo noted China could not have scored its economic development over the past 25 years without the outside world, and in the meanwhile China's economic miracle is "bringing opportunities" to the world.
Over the past 25 years, China's imports rose at an average of more than 15 percent, and total imports added up to US$3 trillion. China imported US$412.8 billion worth of goods last year, making it the world's third largest importer after the United States and Germany.
The minister also cited the figures and analyses of a US agency and the United Nations Conference on Trade and Development (UNCTAD) , saying China has been one of the most attractive places for world investors.
More than 400 out of the world's top 500 multi-national firms have invested in China, and all of the world top car-makers have entered the country. About 90 out of the world top 100 IT companies have also invested in China, according to the ministry.
Bo quoted analysis by the UNCTAD as saying that China will become the fifth largest source of direct investment this year. Direct investment from China to other parts of the world reached US$33 billion last year, the minister added.
(Xinhua News Agency September 11, 2004)