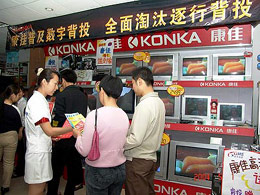 Konka Group Co., a major television maker in China, said Wednesday France's Thomson SA agreed to buy a 4.82 percent stake in the company valued at 156.6 million yuan (US$18.9 million).
Konka said it expected to close the deal within seven days.
Wednesday's statement by Konka did not discuss possible business arrangements with the French electronics company. Thomson has recently been active in China, most notably through a production deal with TCL Corp., another major Chinese consumer electronics group.
Officials of Shenzhen-based Konka had said in the past that it was talking with foreign companies including Thomson about taking a stake. At one point, an official said Konka wanted a foreign investor to help it expand its television production.
Wednesday's notice also revealed that Thomson had already been a minority holder of Konka's listed stock. It said that with the latest purchase, Thomson's total holding in Konka's share capital would rise to 7.98 percent.
Thomson is buying unlisted legal person shares in Konka. Konka also has both A and B shares listed on the Shenzhen Stock Exchange.
The direct purchase of unlisted shares builds on Thomson's holding of 3.16 percent of Konka's B shares. The B shares are a foreign currency class of stock and rep-resent a small portion of Konka's total share capital.
A spokesman for Chinese electronics maker TCL said Wednesday morning the company was caught unaware that Thomson had agreed to buy into one of its major competitors.
But he expressed confidence in the TCL-Thomson joint venture, which created the world's biggest global TV maker when it was completed earlier this year.
"The relationship with TCL and Thomson won't be changed by the Konka deal," said the spokesman, who asked not to be named.
The spokesman said TCL became aware of the share purchase plans from media reports Wednesday morning and had been unable to reach executives at either Thomson or Konka for elaboration.
He said Thomson had in the past described TCL as its "strategic partner," and that no such characterization was provided in the Konka statement. There was no mention of TCL in Konka's statement.
Konka said its share capital was being bought by Thomson Investments Group Ltd., a wholly owned unit of the French company registered in the British Virgin Islands.
The shares are legal person scrip not tradable on an exchange. They are being sold by Konka's largest shareholder, China Overseas City Group. China Overseas City will retain about 24 percent of the television company.
(Shenzhen Daily November 25, 2004)