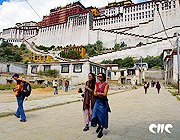 Southwest China's Tibet Autonomous Region has utilized 26.87 million US dollars in actual foreign investment during the first 11 months of this year, an increase of 476 percent over the same period of last year, according to statistics released by the regional government.
Tibet has become increasingly popular among foreign businesses, with sectors such as tourism, Tibetan medicine and mining offering them abundant business opportunities.
Experts believe that marked improvement in infrastructure and preferential policies on foreign investment are the main factors behind the surge in foreign investment.
The region has seen a remarkable improvement in its infrastructure during the past decade, when it has invested nearly 90 billion yuan (about 10.84 billion US dollars) in projects such as electricity, transportation, telecommunications and education.
Construction of the 2,040-kilometer-long Qinghai-Tibet railway is progressing well. With an investment of more than 3.7 billion US dollars, the project will provide transportation convenience and should bring economic benefits to the region.
Tan Yungao, director of the region's commerce bureau, said that Tibet also offers preferential policies to foreign investors in many sectors such as agriculture, husbandry, mining, medicine and tourism.
(Xinhua News Agency December 23, 2004)