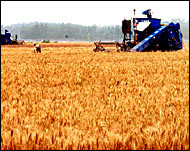 China will work to enforce macroeconomic controls in grain production, Cao Yushu, deputy secretary-general of the National Development and Reform Commission, said in Beijing on Monday.
While addressing an economic forum, Cao said that despite an increase in grain production in 2004, there are many latent problems in the sector.
It is crucial to keep grain prices at a reasonable levels whilst increasing output this year, Cao said, since they directly affect farmers' income.
Grain output last year surpassed the target of 455 billion kilograms and set a new record, but the previous year's output had been the lowest since 1992.
Cao said that, with a growth rate of about 25 percent, investment in fixed assets remains excessive. Adjustments are needed, since an irrational investment structure leads to many problems such as oversupply.
(Xinhua News Agency January 18, 2005)