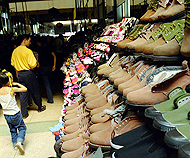 Government officials and Chinese shoemakers will hold an emergency meeting today in a bid to find a solution to a crisis sparked by Russian customs officials' seizure of Chinese shoes worth millions of dollars earlier this month.
Armed police raided a warehouse in a wholesale market in southern Moscow on March 12 and seized more than 100 containers of shoes worth some 80 million yuan (US$9.7 million).
They accused the Chinese merchants of smuggling goods.
The shoes were owned by about 20 export businesses from Wenzhou, East China's Zhejiang Province.
The Ministry of Commerce and Ministry of Foreign Affairs have expressed great concern on the issue and have raised it with the Russian authorities.
Officials from the ministries will take part in today's meeting along with representatives of the General Administration of Customs, local trade authorities from Zhejiang Province and the China Leather Industry Association.
Wang Xiaoping, president of one of Wenzhou companies involved, said the shoes were confiscated because official customs papers could not be provided.
These shoes entered Russia through the "grey customs clearance" channel, a common practice in trade with Russia, Wang said.
Formal customs clearance normally takes around six months, he said.
Irregular trade has been a big concern to China and Russia and has sparked many disputes.
Irregular trading came about after Russia allowed so-called "customs clearance" companies to conduct import transactions and provide "one-stop" services which combined transportation and customs clearance.
These companies, which usually have close relations with Russian Customs, offer favourable tariff policies and do not supply customs clearance manifests.
Ministry of Commerce officials said the two countries have established a joint working group to standardize irregular trade activities between the two countries.
(China Daily March 22, 2005)