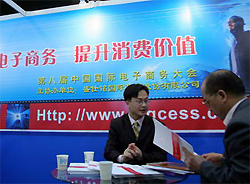 China's e-commerce, in a crucial stage of development, is to grow at over 50 percent every year, said Song Ling, chairman of China Electronic Commerce Association.
"E-commerce has become an important part of people's life and also a strong driver of China's market economy," said Song at the eighth China International E-commerce Conference held in Beijing Sunday.
In recent years, e-commerce has been expanding fast with annual sales rising at 40 percent on average. According to Song, Beijing's transaction volume of e-commerce reached 66.6 billion yuan (US$8.05 billion) last year, Shanghai over 70 billion yuan (US$8.46 billion), and south China's Guangzhou 23 billion yuan (US$2.78 billion).
Rural areas have started over 2,000 websites for e-commerce. E-commerce lowered the transaction cost in traditional industries and improved service management in sectors of finance, telecom and logistics, Song said.
She estimated that, this year, the development of e-commerce would focus on the construction of a credit record system, electronic payments, modern logistics and human resources.
The environment for e-commerce in China is improving gradually. On April 1, China's first "electronic signature act" started to take effect, which is considered the milestone of China's e-commerce development.
The eighth China International E-commerce Conference was launched by China Electronic Commerce Association and organized by Xinhuanet.com.
(Xinhua News Agency April 18, 2005)