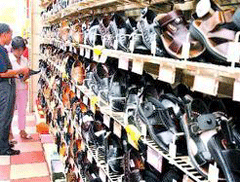 Chinese footwear manufacturers, headed by an industrial association, will today take part in a hearing in Brussels relating to European Union (EU) dumping charges against Chinese leather shoes.
The delegation is expected to say that Chinese manufactures have not harmed the European industry.
Meanwhile, the Italian Government claims it has found Chinese shoes that could contain high levels of toxic chemicals.
"The dumping delegation will testify that Chinese footwear makers have done no material harm to the European industry," said an official surnamed Cui with the China Chamber of Commerce for the Import and Export of Light Industrial Products and Art-crafts. But she declined to give any further details.
In order to prove dumping has taken place, the EU has to show that imports of Chinese shoes have harmed its domestic footwear industry, according to regulations of the World Trade Organization.
That requirement comes in if it is also shown that Chinese enterprises have been selling products at prices lower than cost, or prices lower than in its domestic market.
As China has not been granted market economy status by the European economic bloc, enterprises involved in dumping investigations have to win market economy treatment separately.
This means they have to prove they are acting as a proper free market business.
If they cannot provide this proof, the EU will use the price of a commodity, such as shoes, from a third country as a substitute price.
The EU declined to give market economy treatment to the 13 Chinese leather shoemakers under investigation.
Cui said the enterprises involved had filed appeals to the European Union asking it to reconsider the market economy issue.
Experts said that if a country like Brazil was taken as a substitute country, it could be a big blow to Chinese companies as China enjoys cheaper labor and material resources.
Meanwhile, Italy should not disturb the dumping charge process with other issues, said Wei Yafei, spokeswoman with the China Leather Association.
She was referring to news that the Italian Health Ministry said it had seized samples of shoes imported from China that might contain toxic chemicals over limits set out in EU regulations.
"It is not right for the EU to impose its domestic standards, which are only recommended rules, on Chinese shoemakers," Wei said.
There is no globally accepted standard for the checking of chemicals in footwear, she explained.
"I do not think it will have a great impact on China's shoe exports. Chinese companies implement the standards agreed in agreements," she said. "They will abide by them if there are regulations about chemicals in the agreement."
Some EU members, including Sweden, Holland and Denmark, have protested against the EU's possible anti-dumping duties on Chinese footwear.
The EU initiated dumping investigations against labor safety shoes and leather shoes from China in June and July respectively. The primary ruling is scheduled to be made in April 2006.
The leather shoe case, which involved over 1,200 factories and 1 million jobs, is the largest dumping charge that the EU has launched against Chinese products.
The China Leather Association has warned that the charge is likely to be brought forward because in recent months there has been a rapid growth in China's footwear exports to the EU, as footwear traders make every effort to beat possible penalty duties.
(China Daily December 22, 2005)