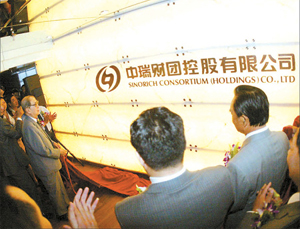 While fund-shortages have been haunting many private businesses in China, some rich entrepreneurs in the eastern city of Wenzhou are now more concerned about other matters - making good use of the money they earn, and seeking further capital and business expansion.
Instead of working individually to realize that aim, cooperation seems to be providing a short cut.
Nine private enterprises in Wenzhou, for example, were thrust into the limelight on Wednesday as they joined together to form a new entity, Sinorich Consortium (Holdings) Co Ltd, which will allow them to enter new businesses and undertake big investment projects like road, power plant and real estate developments without affecting their own daily business operations.
The founders of the consortium come from nine different industries, such as shoe manufacturing, real estate, electronics and printing, and some of the groups are unknown to others.
"Wenzhou business people are known for their shrewdness and normally, many are quite self-centred," said Zhang Zonghe, director of the Institute of Private Economy at Zhejiang Gongshang University.
"The fact that they chose to work together to explore business opportunities is obviously out of economic interest and is also a natural response to market development."
The union enhances their capital strength and enables them to take part in projects that would have been too costly for an individual company, Zhang told China Daily.
Standing united, the group will also gain more attention and support from the local authorities.
In Wenzhou, where flourishing private businesses produce many rich people quickly, the abundance of funds has made investment channels more of a major concern than securing money.
Statistics show that by the end of April, the outstanding renminbi and foreign exchange deposits in the city were close to 200 billion yuan (US$24.2 billion).
Local residents have been seeking returns from real estate investment in many major Chinese cities like Beijing and Shanghai. But access to investment is still rather limited.
Wenzhou entrepreneurs have been eying investment spheres other than real estate, said Shi Jinchuan, vice-dean of the School of Economics at Zhejiang University.
Sinorich, for example, seems to be more interested in infrastructure projects, in addition to some financial projects, he said.
On the other hand, market competition, which intensifies with the entry of more foreign companies, has forced local entrepreneurs to find new operational models to sustain profits.
More private enterprises - not just those in Wenzhou but from a broader sphere throughout the eastern and southern provinces of Zhejiang, Jiangsu and Guangdong - will merge together or form similar unions to stay in the market and become more internationally competitive, according to Zhang.
So ultimately, more big groups will emerge while many small and poorly managed firms will be forced to withdraw, he said.
However, some also doubt the durability of the consortium model and such alliances between private entrepreneurs.
Sinorich has a registered capital of 55.8 million yuan (US$6.7 million). Each of the founders contributed equal funds and has equal ratios in the consortium.
When the consortium needs fresh capital for new projects, the nine shareholders will increase their investments accordingly.
It will ensure that all parties continue to have an equal say, according to Wang Zhentao, the consortium's vice-chairman, who also has his own shoe business - the Aokang Group. But this is where the problem arises.
Shi said: "If all the nine board members have the same say, it will be hard to strike a consensus when opinions are divided. So we can only wait and see if such a model works or not."
It would not be surprising to see some initiators pulling out of the partnership if there were problems.
The legal obscurity surrounding such entities also presents regulators with a challenge.
As reported, Wenzhou's authorities have expressed support for such structures, but the banking regulators will keep a close eye on the situation to look for potential risks.
Some legal issues, like the business scale of such groups, whether they can undertake financial business, and controlling relevant risks and moral hazards, are yet to be addressed.
(China Daily June 21, 2004)