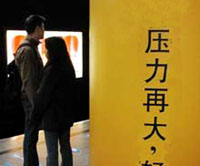 The Chinese have an old saying that "gorgeous women die young." But in this day and age, it seems to be more applicable to middle-aged scientists and intellectuals.
They are the creme de la creme. Yet the 45-55 age bracket has become a virtual death trap for some of these highly educated pillars of society.
There is a "private" joke among them about 49-year-olds being visited by the Grim Reaper.
In traditional superstition, when the number nine appears in one's age, such as 9, 19 or 29, it is considered to be extremely unlucky and an age when death by unnatural causes increases mysteriously.
However, the reality of 49 is a more grounded explanation: mental and physical exhaustion.
A recent survey by the State Commission for Economic Restructuring reveals that China's intellectuals, a broader term used in China to cover academic scholars or any professionals who have an advanced education, have an average life expectancy of 58 - at least 10 years less than the general public.
Another study found that those working in Beijing's Zhongguancun, China's equivalent of Silicon Valley, will not get much past their 53rd birthday, on average.
In the past five years, 134 professors from seven research institutes from the Chinese Academy of Sciences as well as Peking University have passed away. Their average age was 53 years and three months.
The very rough rule of thumb, although not acceptable in a defined world of science, states that scientists and researchers in the 45-55 demographic have a mortality rate that is twice as high as older people in similar professions.
Lurking danger
On June 14, 1982, a 43-year-old optical scientist experienced a sudden stomach ache. He was sent to hospital and died that very afternoon. His name was Jiang Zhuying, and his death first highlighted the middle-aged intellectuals' mortality rate.
To the amazement of the public, these people were found shouldering more than their fair share of work.
At home, they had parents taking care of their children and they were usually the breadwinners, taking care of the entire household.
At work, they often occupied critical teaching or research positions that required long hours and lots of work.
To make matters worse, many suffered from malnutrition or even starvation during their childhood, when famines in the late 1950s might have left them in poorer health than they realized.
While the nation deplored the early deaths of so many from the academic circle, the government started introducing policies in the mid-1980s to improve their living standards.
And for awhile, the problem seemed to have abated, but it has returned with a vengeance.
People are puzzled, scratching their heads as to why the collective devastation has resurfaced.
Deciphering the disaster
Looking at the phenomena more scientifically, the above mentioned factors may indeed be at work, but they are not decisive.
For example, childhood malnutrition afflicted a whole generation. Presumably, farmers fared even worse. Yet their mortality rate at the same ages is nothing like that of the scholars'.
Another strange thing is that academics used to tend to live to ripe old ages.
Experts say although the material rewards for this generation of middle-aged academics is undeniably better now, they are under a lot more stress.
They were the first ones in the academic world to encounter the fallout from the intensified competition resulting from reforms of the country's scientific research system.
Scholars may still have more job security than other professions, but they are being increasingly driven by competitive forces: the number of grants they can get, research papers they can publish or consultancy opportunities they can grasp.
They tend to be a lethal combination of being extremely busy and having bad habits, a throwback from their student days.
Many of them burn the midnight oil habitually, have meals at irregular hours and work in front of a computer all day long.
And when they dine out and socialize, it is often work-related, at which time they may overeat and further damage their bodies.
Weekends do not mean much to them. They either keep working or try to stay updated about what is happening in the world and in their fields.
And there is no real respite when it is time to sleep, as they tend to suffer from insomnia.
When work tension gets dangerously high, they have no way to release it not in front of family members or other experts like psychiatrists. They believe it will damage their social standing.
Some of them even maintain a frugal lifestyle, although they can afford little luxuries like a maid.
And there are generally no regular physical checkups. That is why when these workaholics fall, they go down without any apparent warning.
Hu Kexin was only 38 when he died in 2001. He was already eligible to teach PhD candidates and was involved in several crucial State-funded projects.
Hu uttered these remarks on his deathbed: "I need three more years to complete this project. But right now I cannot do it. But after it's done, I'll have no regrets!"
Sadly, he never got the chance to finish his work.
Remedies needed
His employer, the Chinese Academy of Sciences, was aware of the workaholic habits of its staff.
It had stipulated that all people had to have left work by 11 pm. But Hu was said to have stayed on, working through the night whenever he could.
In Shanghai, Fudan University has made it compulsory for its core workers to take at least one week off over summer to rest and to refrain from putting in hours during the weekend.
To achieve that goal, its union has sent its people to talk the core workers into "submission" and alert them of the importance of reducing built-up tension.
In Guangzhou, some members of the local committee of the Chinese People's Political Consultative Conference have suggested the adoption of laws to prevent this problem from escalating.
There should be government funding for clinical sessions to serve this demographic, they argue.
As a matter of fact, a national policy of regular physical checkups among academic professionals was installed some 20 years ago, but in most places it has turned into a mere formality.
Employers should have a health database for their academic professionals and introduce awareness programs that specifically target the group, said Fan Yuliang, deputy director of the General Hospital of Huangpu District in Shanghai.
On a deeper level, the thinking about work ethic should be readjusted, experts say. Workaholic behavior has always been extolled by the government, and those who died from exhaustion are splashed across the media as role models.
Instead, employers should watch the workload of those who tend to take on excessive amounts of work and "take a more humanitarian approach," they contend.
As many as 70 per cent of China's academic personnel are suffering from poor health, and if the problem is not solved, two-thirds of them will die from heart or brain-related diseases, 10 per cent from tumors and 20 per cent from lung diseases, diabetes or work-related accidents.
Only about 10 per cent of them will actually live what is considered a long life.
(China Daily July 3, 2004)