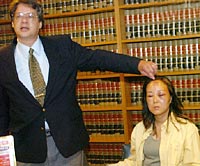 A US State Department official said on Monday that Secretary of State Colin Powell had a telephone conversation with Chinese Foreign Minister Li Zhaoxing over the beating of a Chinese tourist at Niagara Falls near the US-Canadian border.
Adam Ereli, deputy spokesman of the State Department, said that Powell spoke with Li Zhaoxing on Sunday concerning the beating incident.
"The Department of Homeland Security is investigating the matter. We look forward to getting to the bottom of it as soon as possible," Ereli told a news briefing.

But the US official was reluctant to condemn the brutal beating by American security officers.
In his telephone call with Powell, Chinese Foreign Minister Li Zhaoxing urged the United States to carry out a serious and thorough investigation into the beating incident.
The Chinese foreign minister demanded that "those responsible for the incident should receive legal punishment". Powell responded to Li's requirement, saying that he will inquire into the issue.
Zhao Yan, a Chinese businesswoman from Tianjin, was on her first US business trip. She was attacked at Niagara Falls near the US-Canadian border on July 21 by officers of US Customs and Border Protection in disregard of normal checking procedures.
On Friday, Zhao told a press conference that she and two friends were passing a row of rooms when a uniformed officer waved to them to come in.
But she barely had time to react in the room when one of the officers pounced at her and sprayed her with pepper spray. The officer then struck her head on the ground while holding her hair and kicked her on the head when she was forced to kneel on the ground.
Zhao had bumps and bruises on her face and head and her eyes were nearly swollen shut. She was taken to hospital for treatment and later released.
The incident, however, put her to great panic and despair.
The officer, named Robert Rhodes, claimed he mistakenly believed Zhao was involved in an illegal drug deal. In a written statement, he said he grabbed a Chinese woman and two others ran when he asked them to come into the inspection station, and sprayed her with pepper spray when she swung her arms at him.
Rohodes was charged Friday with violating Zhao's civil rights. If convicted of the charge, he could face up to 10 years in prison.
(Xinhua News Agency July 27, 2004)