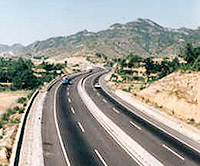 The section of the Beijing-Zhuhai freeway, a major north-south trunk road in China, in central Hubei Province has been opened to traffic.
The 339-km section in Hubei was built at a cost of 12.26 billion yuan (US$1.47 billion), including 400 million dollars of loans from the World Bank.
The entire Beijing-Zhuhai Freeway originates in Beijing and ends in Zhuhai City in the southern part of Guangdong Province. The route will run 2,317 kilometers in total through Beijing Municipality, and Hebei, Henan, Hubei, Hunan and Guangdong provinces.
To date, construction of most of the freeway has been finished and opened to traffic.
The section in Hubei, consisting of three parts, is the first freeway in the province using WB loans and is expected to benefit as many as 70,000 poverty-stricken locals who live along the road.
(Xinhua News Agency August 3, 2004)