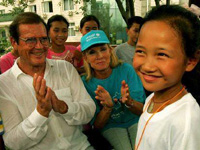 China's AIDS orphans are expected to gather today in Beijing for a five-day summer camp.
Beijingers have been quite cold to the 71 children. Some 40 schools, rest houses and hotels even refused to offer lodgings for them.
The schools worried that their students would feel uncomfortable knowing that their dorms had been used by AIDS orphans, and hotels worried that the special group might affect their other guests.
These justifications are illogical and heartbreaking.
AIDS kids deserve respect and fair treatment. The facts are clear: One cannot get AIDS from common contact with an AIDS or HIV-infected patient. Only sexual or blood-related contact will transmit the virus.
HIV carriers and AIDS patients, as well as their relatives, have long been victims of wrongful discrimination.
Having the correct knowledge about AIDS is of great public importance so that individuals can take precautions against HIV infection, which is a pressing issue for a country that has an estimated 840,000 HIV carriers and 80,000 AIDS patients.
It is also a prerequisite for removing bias.
Currently, most Chinese have insufficient and often incorrect understanding about AIDS, which directly leads to such blatant discrimination against HIV carriers and AIDS patients as well as their relatives, as was displayed against the children in Beijing.
According to a survey of 3,968 people aged 16-60 conducted by Futures Group and Horizon Research Group, Chinese residents have deficient knowledge regarding AIDS/HIV.
Respondents had a better idea about mother-to-child transmission of HIV and the importance of not sharing needles than about the role of sex in transmission of HIV and the role of condoms in preventing HIV.
Only 8.7 per cent of the surveyed offered correct answers on questions regarding the transmission route of the virus and preventive measures against transmission during sex.
There is still a lot more for the public to learn about HIV/AIDS.
The survey also found that few people express caring attitudes and acceptance for those infected by or living with AIDS. Amazingly, only 33.9 per cent of urban residents and 19 per cent of town residents think that HIV carriers should be allowed to continue working. When asked about respondents' attitudes towards relatives with AIDS, 57.2 per cent of urban residents and 45 per cent of town residents said they would be willing to take care of HIV-infected relatives.
While it is not difficult to understand why AIDS orphans were cold-shouldered in Beijing after we learnt about the survey, it is a shame.
Xicui Hotel in Badachu, a scenic spot on the outskirts of Beijing, has accepted the children coming to their summer camp, and it should be congratulated.
We wish the children an enjoyable stay in Beijing.
(China Daily August 10, 2004)