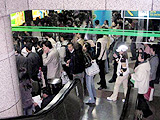 Shanghai is facing tough challenges posed by a growing migrant population, unreasonable population distribution and an aging society, the Shanghai Population and Family Planning Commission said at a briefing to consulate officials Monday.
As the city with "the highest population density in China, we are shouldered with a strong responsibility to enhance management and solve the problems hampering further social and economic growth," said Xie Lingli, director of the population commission.
While the city's natural growth rate has been negative for the past 11 years, a growing influx of migrants has pushed up the population and created many problems for the city.
The city's latest census, conducted in 2000, found there were 16.41 million permanent residents in Shanghai, meaning there were 2,588 people per square kilometer.
The census also noted there were 3.87 million migrant workers in 2000, up from only 2.37 million in 1997.
"There is an irrational distribution of population, as the density within the Inner Ring Road is 40,100 people per square kilometer. There are only 900 people per square kilometer in the suburbs," Xie added. "The unreasonable distribution is bad for environmental protection and the city's land use."
The city has tried to balance the density more evenly by setting up more subways that run to the suburbs among other steps, but such plans take a long time to pay off.
Officials say the average size of a family in Shanghai is dropping. In 1949, the average family had 4.9 people, a number that dropped to 3.1 in 1990 and 2.8 in 2000, indicating the one-child policy is working and many families have decided not to have any children.
Few children could cause problems in the future as aging become a problem in the city.
"By 2003, there were 2.55 million people aged 60 or above, accounting for 18.98 percent of the total population," Xie said.
"That figure will rise to 20 percent in 2005 and 33 percent in 2020."
Unless the city can do something to change those numbers, a relatively small number of workers will have to support a large number of retirees within the next several years.
The commission said it is conducting research and taking efforts to strengthen population management and enhance services to people in different age groups.
To allow local expatriates easier access to the city's population policy, the commission issued the nation's first bilingual population and family planning regulation.
Officials also distributed the regulation at Monday's meeting.
(Shanghai Daily September 7, 2004)