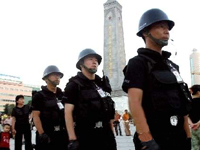 A senior CPC official says there is absolutely no room for the extremely small number of national splittists and terrorists in Xinjiang as nationalities unite, border defense is strengthened and people's living standards keep rising.
Speaking in an interview with foreign reporters in Urumqi, Wang Lequan, Secretary of the CPC Xinjiang Autonomous Regional Committee, says the Chinese government relies on the broad masses of people to safeguard the country's unification, social stability and the happy lives of various ethnic groups in Xinjiang by cracking down on extremists, splittists and international terrorists.
Wang Lequan says the facts prove that violent activities conducted by these three forces have damaged the fundamental interests of people and their objectives do not enjoy popular support in the region. He adds that people in Xinjiang think stability is the precondition and the guarantee for accelerating development and improving their lives.
(CRI September 14, 2004)