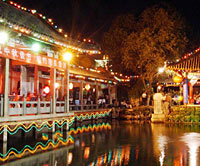 Experts at the Chinese Academy of Sciences' National Astronomical Observatories say that this year's Mid-Autumn Festival -- traditionally a time for enjoying the bright beauty of the full moon -- will be a special treat for moon-gazers.
The festival takes place on the 15th of the 8th lunar month, which means it ranges from the end of August through September.
"This year, the Mid-Autumn Festival really has the brightest and fullest moon, which is quite rare," said Li Jing, 76, a senior researcher at the observatory.
The reason lies in the alignment of sun, moon and Earth.
This year's festival comes just a few days after the autumnal equinox, when the sun appears to cross the Equator and the day and night are of equal length.
The moon's orbital path lies relatively flat along the eastern horizon, so that each night it rises not much later than the previous night. The effect produces bright moonlight during darkening twilight for several evenings in a row.
Li said that in this alignment, with the moon so close to the Earth it appears especially bright and large.
"For residents in Beijing, the best time to enjoy the moon is at 9:09 PM," said Li. "Yet it varies from time zone to time zone."
In Urumqi, the capital Xinjiang Uygur Autonomous Region in the far northwest, moon viewing will be optimal at about 11:00 PM Beijing time.
This particular alignment will not occur again for another nine years, according to the Beijing Morning Post.
(China Daily September 28, 2004)