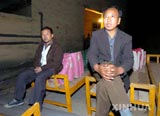 North China's Hebei Province released an urgent notice Friday night, asking local governments to launch a thorough check on the safety of coal mines across the province.
The notice said that in the recent period, especially since September, severe accidents have been frequent in the province, indicating problems in management and supervision of safety production.
A coal mine flooding left 29 people missing early Wednesday morning in Desheng Coal Mine of the province. But the mine owner only reported six people being trapped, according to sources with the local production safety bureau.
The notice asked companies to check thoroughly the loopholes in their management and safety facilities in production. Those with hidden safety problems will be asked to restructure within a time limit.
The notice also asked local safety administrations to strengthen supervision and prevent the occurrence of new accidents.
(Xinhua News Agency October 23, 2004)