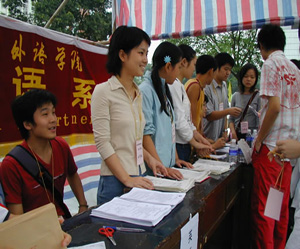 The development of higher education should not be achieved by charging students, Xinhua News Agency quoted Vice Education Minister Zhang Baoqing as saying Tuesday.
Colleges and universities should stop increasing tuition fees, and tuition fees should only serve as supplements for the government's investment on education, Zhang told a seminar attended by university representatives held in Xi'an recently.
"We should not create a situation where whoever has money can enter university. That is not the education for a country led by a communist party," said Zhang.
Higher education progressed rapidly in the past five years, with college enrollments increasing from 6 million in 1999 to more than 20 million in 2004. China had entered a stage where higher education was reaching the mass population, said Zhang.
However, with the tuition hikes in recent years, some students could not afford higher education, particularly students from rural areas. The people were very unhappy about that, said Zhang.
He said higher education now was very expensive. For example, a student needed nearly 10,000 yuan (US$1,208) a year to study in Beijing -- 4,000 yuan for tuition, and about 3,600 yuan for living costs as well as transport fees and books, said Zhang.
Many college students are from rural areas or are children of laid-off workers who cannot afford expensive tuition. "We cannot raise university tuitions any more," said Zhang.
In 2003, the government invested 70 million yuan on higher education, while students paid 40 million yuan to universities, said Zhang.
Some universities were raising tuition fees through illegal means, and the government would stop that, said Zhang.
(Shenzhen Daily November 10, 2004)