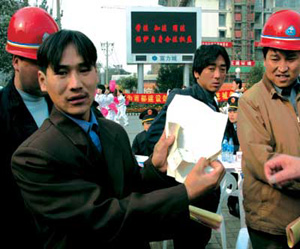 Living in an air-conditioned dormitory and earning a salary of 1,000 yuan (US$120), Zhang Haizhi is lucky, compared to millions of his fellow farmers-turned workers.
"Our employer pays us regularly and buys insurance policies for us," said Zhang, who came to work at a big construction company in Beijing from Central China five years ago.
But he will not be among the only who have found luck since China's top authorities adopted a firmer stance on safeguarding migrant workers an equal place in employment.
Premier Wen Jiabao said Wednesday at a State Council meeting that a nationwide probe will be launched at the end of this year to urge local governments and companies to pay all owed wages to rural migrant workers.
He also said companies should sign contracts with migrant workers and buy industrial injury insurance for their rural migrant employees.
The Ministry of Construction is proposing a revision of the Construction Law, according to Li Changchun, a senior official with China's Seamen Construction Trade Union.
A heavy fine should be imposed upon the companies which postpone paying their employees, the ministry suggests.
"If the law gets passed, the fine will reach 300,000 yuan (US$36,300) at a maximum," Li said.
Another possible provision will require the signing of legal employment contracts not only between project contractors and labor service agencies but also between the agencies and rural migrant workers, Li said.
According to the trade union, less than 20 percent of the total rural migrant workers have signed contracts with their employers.
So far, the ministry has issued a circular to enforce companies to pay the workers monthly.
"The payment for migrant workers only accounts for 10 percent of their total earnings. So there is no excuse for owing these workers money," said Wang Jinlong, a senior manager with Beijing Zhuzong Zhengtong Engineering Co Ltd.
According to Li, by the end of 2003, the owed project payment had amounted to 170 billion yuan (US$20.6 billion), which resulted in many unpaid migrant workers.
He Bing, a senior official with the All-China Federation of Trade Unions, revealed Wednesday they would suggest the ministry concerned make a special law for rural migrant employees to safeguard their legal rights.
"We are also considering advising the State Council to establish a special working committee on protecting these people," He said.
According to the Ministry of Construction, the unpaid wages owed to rural migrant workers in 2003 have been nearly returned.
While about 86 percent of the 17 billion yuan (US$2.1 billion) owed before 2003 has been paid.
Northeast China's Liaoning and Heilongjiang provinces, east China's Fujian Province and northwest China's Xinjiang Uygur Autonomous Region are in the black list for not being able to return 60 percent of the wages owed before 2003.
The ministry requires all owed wages be paid by 2005.
Labor and social security statistics show there are about 100 million rural migrant workers in China, double the total employees of state-run and collective companies.
No less than 13 million farmers are seeking employment in cities year on year.
(China Daily November 2004)