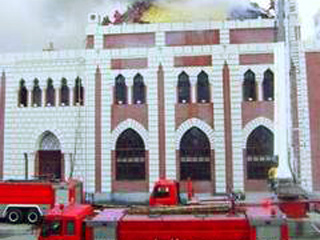 The largest Jewish synagogue in the Far East, Harbin New Synagogue, caught fire Thursday, and nearly half of the newly restored dome was destroyed.
The renovation was underway at the synagogue, when several construction workers accidentally ignited foaming agents and synthetic benzene boards at 3:30 PM and the fire was extinguished at around 4:00 PM Thursday.
The municipal construction bureau required the operating company, Heilongjiang Zongyi Decoration Company Limited, to suspend work there.
The synagogue, built in 1921, has a floor space of 1,233 square meters and can accommodate up to 800 people at a time. It was delicately built with a square hall and a dome.
Renovations began in August and to repair the interior and exterior decorations.
Upon completion, the synagogue is expected to be turned into the Harbin Museum for Jewish History and Culture.
In the late 19th century, large numbers of Jewish people began moving to Harbin to avoid harsh discrimination in Cczarist Russia and other European countries.
The number of Jewish people living in Harbin once topped 20,000 in the 1920s, forming the largest Jewish community in the far east. They developed a complete social system of their own in the city.
(Xinhua News Agency November 12, 2004)