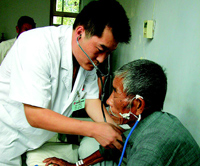 The Ministry of Health revealed on Sunday that nearly 40 percent of the country's patients cannot afford medical treatment because of high costs.
Expensive medical treatment has been one of the targets of criticism in the country in recent years. Many people simply give up medical treatment, sometimes with fatal consequences.
The numbers are shocking: 36 and 39 percent of patients in urban and rural areas respectively, did not visit a doctor because of economic difficulties last year.
Medical costs climb at a rate much higher than income. From 1993 to 2003, the cost of medical treatment increased by 14 percent annually when the price hike factor was deducted. The increase in residents' income was left in its wake.
When the average income of the country's rural residents was only 2,622 yuan (US$315) last year, average in-patient hospital costs for a farmer ran as high as 2,236 yuan (US$270). It means those average households who just begin to get ahead financially are rapidly dragged back into dire poverty when one of its family members falls seriously ill.
At present, medical care plans differ greatly: only government employees and State enterprise employees get a certain portion of government medical care subsidies. Others get medical insurance policies from their employers while others buy medical insurance themselves. In most cases, however, it is the rural poor who suffer most as they have to fend for themselves.
The fact that nearly 40 percent of the sick did not go to see a doctor because of financial difficulties should sound a loud alarm bell that policy makers must heed. It is time to work out a medical care plan which is accessible, if not free, for all the residents in the country. Last year's SARS crisis, or severe acute respiratory syndromes crisis, had caused the government to reflect on its public health and medical treatment system. The country has speeded up its medical insurance reform and planned to implement a new co-operative medical care system for all its rural population by 2010.
This sounds good for our rural residents - if their sick can wait six years.
(China Daily November 23, 2004)