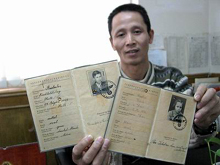 A local resident is looking for the owners of two Jewish passports issued in Nazi-era Germany and Austria, which he bought six years ago from a local flea market.
One of the passport owners is Manfred Lichtenstein, a male born on August 24, 1932 in Halle, Germany. The other belongs to Gerti Waszkoutzer, a female born on December 9, 1934 in Vienna. Both documents were issued in 1938.
"Hopefully, both of the passports can be returned to their owners. If they are still alive, they should be in their 70s or 80s," Zhu Peiyi, manager of Jietong International Freight Co Ltd told Shanghai Daily Monday.
If his search for the owners is successful, Zhu said he will return the passports free of charge.
As a time-long collector of old goods, Zhu stumbled across the two Jewish passports stacked among similar passports at a local used-goods market near Yuyuan Garden.
Each of the passports was printed in old-styled German. The covers contain the words "Deutsches Reich" and "Fremdenpass," which means "German Reich" and "passport for strangers," according to a German friend of Zhu.
Both of the passports contain 28 pages including old-styled German language such as the word "Freigrenze," which indicates that Jewish owners were not allowed to change all of their money into foreign currency to make it more difficult for them to leave Germany. If they left Germany, they had to leave a lot of their property and possessions back home.
Zhu explained that he heard the city is going to build a Jewish cultural site along the northern Bund and many Jewish people are coming back to the city to look for their past, which spurred him to publicize his personal collection.
"The holders of the passports are very probably among the refugees to Shanghai during the 1940s," said Xu Guohua, a scholar of Jewish culture at the Shanghai Academy of Social Sciences.
Xu said it is not clear why and how the passports were left in the city over such a long period of time.
During the Second World War, more than 30,000 Jewish refugees fled Europe for Shanghai, where many lived in the area of the city that is currently known as Hongkou District.
(Shanghai Daily December 14, 2004)