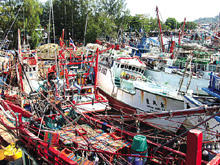 At least seven people were injured by the quake-triggered tsunamis in Phuket, a famous tourist resort in southern Thailand, Hong Kong media reported Monday morning.
Hong Kong television stations reported that three of the seven injured have been discharged from a Phuket hospital after treatment while the rest of the four are in stable conditions.
In a separate development, a Hong Kong couple have been stranded in an other Island in southern Thailand. They are safe and are waiting for rescue forces as they dared not to get out the island by boat.
By 10:00 p.m. Sunday, Hong Kong's Immigration Department has received 219 inquires and 109 requests for assistance relating to the tsunamis triggered by massive quakes.
HKSAR government has pledged to closely follow the cases and render every possible assistance to Hong Kong residents when needed.
Hong Kong media reported that over 1,200 Hong Kong tourists are in Phuket and they were feared to have been affected by the quake-triggered waves in Phuket.
A powerful earthquake jolted many parts of Sumatra, Aceh in Indonesia Sunday morning. The epicenter of the quake was located in Molabo, Aceh, the country's westernmost province.
The quake-triggered tsunamis killed at least 11,477 people in Indonesia, India, Sri Lanka and some other Asian countries.
(Xinhua News Agency December 27, 2004)