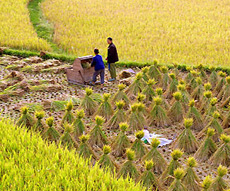 A five-year slide in grain output may end this year thanks to new State incentives for farmers and helpful weather, which are to continue.
Minister of Agriculture Du Qinglin said Wednesday this year's harvest definitely surpasses its target of 455 billion kilograms set in late 2003.
Still, Du said the country has been challenged to ensure grain security for its residents.
"China's agriculture is still restricted by both near-future uncertainties and long-term concerns," Du said during a two-day national working conference on agriculture that ended Wednesday.
The harvest and challenges also top next year's agenda for the country's highest leadership.
The leadership organized a three-day working meeting and developed a draft plan to strengthen support and boost the production capacity of the country's rural areas.
When summing up achievements made last year, Du said the annual income of farmers is expected to see a 6 per cent year-on-year increase this year.
"The increase range is the biggest one in recent years and this is one of the biggest achievement we made in 2004," said Du, whose ministry has listed increasing output, fattening farmers' wallets and controlling and eradicating animal epidemics as the three top priorities.
Thanks to the central government's favourable policies of subsidizing farmers and cutting agricultural tax, China's total grain output is expected to surpass this year's target of 455 billion kilograms. The output in 2003 was 430 billion kilograms.
"But we have to keep a sober mind and cannot underestimate the difficulties of maintaining a stable increase in grain output," said Du.
Policy researchers echoed Du's warning.
"The coming uncertainty is what kind of climate there will be in 2005," said Jiang Zhongyi, senior researcher with the Policy Research Centre under Du's ministry.
He said the harvest and climate this year have been the best in a decade.
But the China Meteorological Administration warned drought is expected to threaten most parts of North China next spring as the world is experiencing a "warm winter."
Another challenge is that prices of seeds, fertilizer and other goods used by farmers are climbing, said Jiang.
Meanwhile, China's growing urban sprawl has taken up millions of hectares of arable land.
Statistics indicate that less than one-10th of China's land is arable but the country has to feed 22 per cent of world's population.
"Despite the challenges, the demand is rigid and is sure to expand as time goes on," said Jiang.
He said as people in China earn more, they eat more grain-fed livestock products such as pork, poultry, eggs, and, to a lesser degree, beef and milk.
"We are required to think of grain security as a top priority," said Jiang.
To achieve the goal, the ministry will build up technological use among farmers. "We aim to make average households have good command of technologies to improve output," said Du.
Du's ministry, which commended top grain-growing farmers Wednesday, plans to encourage farmers to sow 50 quality seeds of rice, wheat, corn and other staples in major planting areas. And 100,000 households will benefit from the project of "Technologies Entering Households," which will be launched soon.
(China Daily December 30, 2004)