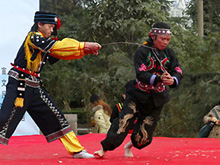 The slightest mention of football would remind many in the capital city of Southwest China's Sichuan Province of big names like David Beckham or Cristiano Ronaldo.
But much less famous is a 40-year-old woman from Liaoning Province in Northeast China who is dumbfounding all at the five-day First China Folk Stunt Show with her ability to keep a football aloft for more than two hours.
Laid-off from her job, Liu Jinfeng started to practise kicking a football in 1997.
Making the Guiness World Records, she can keep a ball off the ground using her feet, knees, chest, shoulders and head 10,208 times for 2 hours and 10 minutes.
Liu is just one of some 100 people from all over the country performing at the show being held in Chengdu until January 2.
Of all the show's acts, which range from stilt and tightrope walking to martial arts, the most thrilling may be that of 50-year-old Fu Zupei from East China's Zhejiang Province.
Taking a snake from a box in his pocket, Fu feeds the serpent into his nose only for it to reappear from his mouth, much to the amazement of onlookers.
The show is also known for its exhibition of folk art.
On show are miniatures, which depict famous scenes in Sichuan and can only be appreciated with the help of a magnifying glass, and a 70-metre-long traditional Chinese silk scroll reviving Chengdu's street scenes from the 1920s and 30s.
Taking three years to complete, the scroll by seven local artists portrays famous buildings which no longer exist as well as some 1,000 people in the street.
Either taking a walk, having a meal, or peddling, the people are all different in their expressions, movements and clothes.
Sponsored by the Chengdu government and the China Folk Artists Association, the show is aimed at promoting development of Chengdu's traditional arts and enriching the lifestyles of locals, said Huang Zhongying, deputy secretary of the Chengdu Committee of the Communist Party of China.
With a history spanning more than 2,300 years, Chengdu is famous for its folk art, such as the changing facial masks of Sichuan Opera, puppet shows and paintings made of sugar, Huang said.
(China Daily December 31, 2004)