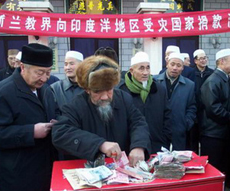 Donations of Chinese people from all walks of life to the tsunami-hit South and Southeast Asian countries have exceeded 150 million yuan (US$18.11 million) till 4 PM Monday, government sources said.
Among the non-governmental donations, the Red Cross Society of China (RCSC) and its branches at various levels have received 55.25 million yuan (US$6.67 million) and the China Charity Federation and its branches at various levels received 98.26 million yuan (US$11.86 million), according to the special office coordinating non-governmental donations to the disaster-stricken countries under the Ministry of Civil Affairs.
By 4 PM Monday, Shanghai had got non-governmental donations valued 27.75 million yuan (US$3.35 million), Guangdong Province 24.58 million yuan (US$2.96 million) and Beijing 16.55 million yuan (US$1.99 million).
The RCSC also revealed that five large companies donated 11.76 million yuan (US$1.42 million) to the disaster-stricken areas Monday.
Sinopec Corp donated five-plus million yuan (US$0.6 million), China Mobile three million yuan (US$0.36 million), Industrial and Commercial Bank of China, Ping An Insurance (Group) Company of China, Ltd. and ABB China one million yuan (US$0.12 million) each, the RCSC said.
(Xinhua News Agency January 11, 2005)