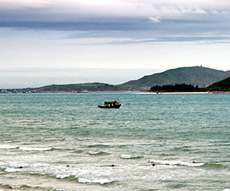 China's southernmost province of Hainan is studying a feasibility report to build a gigantic bridge or undersea tunnel spanning the Qiongzhou Straits and linking Guangdong with Hainan.
Governor of Hainan, Wei Liucheng, told the ongoing Third Plenary Session of the Third Hainan Provincial People's Congress that the Ministry of Communications has set up a special expert committee to study the construction of the gigantic bridge or underwater tunnel and has appropriated 20 million yuan (US$2.4 million) for preliminary research into the project.
It will take five to 10 years to complete the research and the preparatory work, said Xu Xiaomin, director of the provincial development and reform department.
The Qiongzhou Straits, located between the Leizhou Peninsula of Guangdong Province and the Hainan Island, is about 22.5 kilometers wide. The bridge or tunnel spanning the straits will be 31 kilometers long, the official said.
On January 7, 2003, the Guangdong-Hainan railway spanning the Qiongzhou Straits opened to traffic with an investment totaling 4.5 billion yuan (US$542 million), which constituted the country's first cross-straits railway.
To cater to the fast-growing traffic volume, it is necessary to build more convenient cross-straits bridges or tunnels, said Wang Mengshu, academician of the Chinese Academy of Engineering, who was the first to suggest the development of the cross-straits tunnel.
Experts estimate that it would cost 700 million yuan (US$84.3 million) to build one kilometer of underwater tunnel. Construction of the whole tunnel would cost 20 billion yuan (US$2.4 billion).
(Xinhua News Agency February 3, 2005)