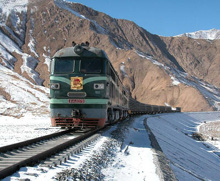 Workers will finish laying the tracks for the Qinghai-Tibet railway by the end of this year and trial operation will begin July 1, 2006, said Minister of Railways Liu Zhijun at a meeting Tuesday.
This year is the most important year for the construction of the Qinghai-Tibet railway, Liu said at the annual working meeting of Qinghai-Tibet railway.
The railway from Golmud in the northwestern Qinghai Province to Lhasa is a landmark project in China's plan to develop its western regions.
The 1,142-km Qinghai-Tibet Railway from Golmud in Qinghai Province to Lhasa is the most elevated rail route in the world, reaching an altitude of up to 5,072 meters. The central government of China decided to build the railway in 2001, allocating 26.2 billion yuan (US$3.1 billion) for this project in western China.
Sun Yongfu, vice minister of railways and also deputy head of Qinghai-Tibet railway construction group, said that in 2004, the country invested 6.8 billion yuan (US$822 million) in the railway. In 2005, the budget is 5.5 billion yuan (US$665 million).
Workers have laid tracks on 743 kilometers, 67 percent of the total length. Work on two-thirds of the key projects on the railway line has been completed. Its construction has cost 19.8 billion yuan (US$2.3 billion), according to the ministry.
The railway has extended into Gulu, a town in Nagqu County in northern Tibet, the last stop before it reaches Lhasa.
After it opens in 2007, the railway is expected to link Lhasa with Qinghai's provincial capital Xining and major cities of Beijing, Chengdu, Shanghai and Guangzhou.
Traffic has been one of the major obstacles to the economic development of Tibet, which makes up about one eighth of China's territory and was the only provincial area without a single inch of operating rail route.
(Xinhua News Agency April 12, 2005)