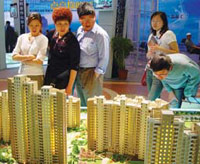 Beijing has sufficient land supply for real estate development and low-income families should have more options in purchasing residential houses, a senior official with the Beijing Development and Reform Commission (BDRC) told the China Youth Daily Thursday.
"With more than 14,410 hectares of land reserved for real estate development, Beijing's land supply has been adequate for at least 10 years. The land-shortage rumor was fabricated to lift up housing prices," said Wang Xuepeng, vice director of the Fixed-Assets Investment Department of BDRC.
Although housing prices in Beijing have gone up fast, the municipal government doesn't want to see drastic price fluctuations. The annual supply of economical apartments for low-income families will be stabilized at approximately 3 million square meters so that the housing rights of the needy can be secured.
In 2004, residential houses with an aggregate area of 67.59 million square meters were under construction. Even though no new projects are being started between 2005 and 2007, the existing programs can still create an annual supply of more than 20 million square meters, much higher than the projected number of 18 million square meters, Wang said.
As official forecasts have put the population in Beijing in 2020 at 18 million, to make sure that a per capita housing area is40 square meters by then, an annual supply of 18 million square meters must be guaranteed, according to earlier reports from BDRC.
Wang also disclosed that no foreign funds have been found involved in speculative operations in Beijing's residential housing market. Currently, less than 20 percent of housing purchases were done as investment, he said.
(Xinhua News Agency April 16, 2005)