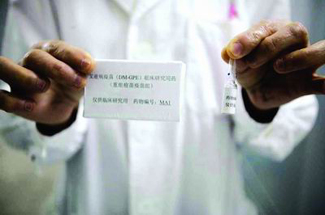 Six Chinese volunteers on Saturday received two milligrams of AIDS DNA vaccine, starting the second phase of clinical test of China's self-developed AIDS vaccine in south China's Guangxi Zhuang Autonomous Region.

The AIDS vaccine is composed of two gene vaccines, one contains DNA of AIDS virus and the other carries poxvirus. The volunteers will receive the poxvirus vaccine in three months, said Wang Youchun, director of the cell laboratory under the Institute for the Control of Drugs and Biological Products.

The AIDS DNA vaccine helps human's antibody and cells to form the immunity against AIDS virus, and the poxvirus vaccine helps strengthen the immunity, said Beijing Youth Daily.

The safety of the two gene vaccines have been tested respectively in the first phase in previous months. The second phase of test is to examine their combined safety, which means to vaccinate each volunteer of the two vaccines in two times, Wang said.

The clinical test of China's self-developed AIDS vaccine began on March 12 this year. As of today, 28 volunteers have received the vaccine. None of them have appeared serious adverse reaction and they have stayed in sound health condition, said the report.

China now has 840,000 HIV carriers including 80,000 AIDS patients. HIV cases has been reported in each of the Chinese mainland's 31 provinces, autonomous regions and municipalities.

Guangxi is the third most seriously affected region of HIV/AIDS in China following Yunnan and Henan provinces, which had reported 11,979 HIV carriers by February 2005, according to regional AIDS control authorities.
(Xinhua News Agency May 14, 2005)