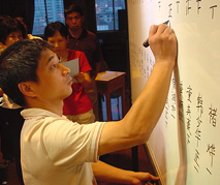 "If you run for the leadership of village committees in our town, you may go through a procedure just like Anold Schwarzenegger ran for the governorship of California," local official Xu Ming told Xinhua, waving a guidebook on how a governor is elected in the US state.
Last week, Tangqi Town of Yuhang District of Hangzhou, capital of the economically developed Zhejiang Province in the eastern part of the nation, initiated a voluntary direct election for its 29 village committees.
Under the rules of direct election, any villager could become a candidate, said Xu Ming, deputy secretary of the CPC Committee of Yuhang District.
On last Thursday afternoon, Ling Jiugen, former head of Jiudiandai Village of the town, paced up and down on the second floor of his village committee's office, seeming to pay little attention to the bustling atmosphere in the main hall. The committee's former accountant, Wu Fasong, repeatedly sipped a bottle of mineral water at the gate of the hall, yet the water level in the bottle did not lower much. The two looked nervous, as they were competing for the new leadership of the committee.
"Usually I am timid and overcautious," Wu Fasong said, blushing with anxiety. "I have to make a speech before so many people, and I'm nervous."
At 1:30 PM, the election opened, with 286 out of the 290 villagers in Jiudiandai participating.
Having served as the village head for 14 years, Ling Jiugen was so nervous that he hit the microphone accidentally when he was saluting to the mass, prior to his presentation. The audience laughed, and a light-hearted air prevailed the assembly for the time being.
After fierce competition, Wu was elected village head with 219 votes to Ling's 52.
Though disappointed, Ling expressed his appreciation of the new election mode. "In the past, I was appointed by the superior and subject to little supervision by the masses," Ling said.
With his voice trembling, the newly elected Village Head Wu said, "Speaking on the stage, every word I said was a promise to my fellow villagers. I will not only be accountable to my superiors, but also be accountable for the villagers who voted for me."
"I voted for Wu. I think the current election method is better," said Shen Songlin, an average villager from Jiudiandai.
By last Friday, another five villages in Tangqi had completed election for village committee members through the same method as that at Jiudiandai.
Xu Ming considered the new election method to be high in efficiency and low in cost. Now seven gatherings are needed instead of 11 in the past, with election cost down from 30,000 yuan (US$3,614.5) to 10,000 yuan (US$1,204.8) on average, Xu said.
This election mode has spread to Tonglu County in Zhejiang Province. Xu Ming said that it would be more difficult to run election in such mode at a village with a population of 4,000 to 5,000. More exploration and research efforts will be demanded, Xu added.
Chen Suijun, associate professor of the research center of agricultural modernization and rural development under the Zhejiang University based in Hangzhou, said that it is necessary to tolerate experiments with new election methods, if only they conform to China's Organic Law on the Village Committees.
Promulgated in 1998, the law stipulates that a village committee should come forth through democratic election and should make decisions on democratic terms. It should also carry out democratic management and be put under democratic supervision.
Huang Daoxia, a researcher with the State Council's Development Research Center, observed village committee elections on the spot in Yuhang County of Zhejiang. He said that Zhejiang's grass-roots democracy, embracing election, management and supervision, has taken the lead in China. "The new election method in Yuhang is a significant initiative and provides a paradigm for grass-roots democracy for the rest of the country," he said.
(Xinhua News Agency May 18, 2005)