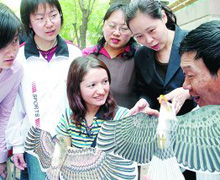 Since China adopted its opening-up policy in 1978 and widened its policy on receiving foreign students, the country has seen a rising number of international students arriving to attend college.
Latest statistics from the Ministry of Education indicate that last year alone, 110,844 students from 178 countries came to China, studying in 420 colleges scattered in 31 provinces, municipalities and autonomous regions.
The number is 43 per cent greater than that in 2003, breaking the record set throughout the past decade.
Sources from the ministry's Department for International Co-operation and Exchanges attributes this to the following factors:
Educational departments value the work of receiving foreign students. Teachers in the 420 universities get continuous training in order to improve teaching efficiency for foreign students.
More and more foreign countries have come to recognize China's higher educational excellence. China has signed agreements with Britain, Germany and other countries to mutually recognize academic degrees.
China's economic development and traditional culture have greatly attracted foreign students. With the mutual exchanges of trade and economy between China and the Republic of Korea growing, for example, many students from the Republic of Korea are actively seeking to come to China, since their study here is helpful in finding jobs when they return. In the past two years, more and more foreign countries fund their students' studies in China. Last year, for example, 200 students from Pakistan, Thailand and Viet Nam came to China using governmental funds.
Local governments, such as those in Beijing, Shanghai and Yunnan Province, have all established governmental scholarships to assist foreign students.
The outbreak of SARS (severe acute respiratory syndrome) in 2003 made some foreign students suspend their studies in China. Chinese relevant authorities allowed students the convenience of returning to their own countries. Since last year, those students came back and their returning encouraged other international students to come.
The Ministry of Education and Ping'an Insurance Company further improved life insurance for foreign students in 2003. To date, more than 20,000 foreign students have applied for insurance.
China is expanding the programme of training foreign students for doctoral degrees by Chinese academicians. Last year, seven students from Bangladesh, India, Thailand, Pakistan and Japan enjoyed Chinese governmental scholarships for obtaining doctorates.
(China Daily May 24, 2005)