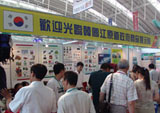 Business deals worth US$2.63 billion were struck at the 16th China Harbin Fair for Trade and Economic Cooperation by Thursday.
Information from the organizing committee said that contracts of internal trade and economic cooperation, with a combined value of 37.75 billion yuan (about US$4.55 billion), were concluded at the fair.
Thirty-one domestic trading delegations signed foreign trade contracts worth US$1.73 billion with businessmen from 26 countries and regions. Heilongjiang Province took the lion's share, with a contractual value of US$1.19 billion.
Commodities on the export contract list include frozen pork, textiles, garments, auto spare parts and home appliances, while commodities on the import contract list are timber, pulp, processed oil, raw materials for the chemical industry, medical equipment, chemical fertilizers and pesticide.
The current fair also saw the conclusion of 14 agreements on labor and contract projects, worth US$120 million.
The six-day 16th China Harbin Fair for Trade and Economic Cooperation will close on Sunday. It had attracted representatives from the UN Industrial Development Organization (UNIDO), Russia, Japan, the Republic of Korea, Singapore and Malaysia, and 10 government and trade departments in Hong Kong for the first time.
(Xinhua News Agency June 18, 2005)