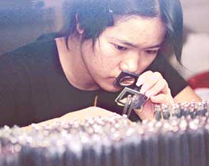 As of July 10, a total of 39 people had died from occupational diseases contracted in 25 serious cases of workplace negligence in the country this year, according to a report released by the Ministry of Health on August 7.
Most of the deaths were caused by suffocating poisonous gases, including hydrogen sulphide and carbon monoxide. The majority of the victims were migrant workers from rural areas.
The latest figures compiled on occupational diseases in China date from 2001, when 13,218 such cases were reported. While it might not seem impressive for a country with some 300 million workers employed in various enterprises, experts are alarmed by the growth rate. The number of cases reported in 2001, according to the Ministry of Health, had risen by 13 percent above the previous year's total.
Of these cases, 203 involved benzene poisoning, with a mortality rate of 21.7 percent.
Wang Dixue was one of those poisoned. She died of aplastic anaemia directly caused by benzene in the glue she came into contact with every day for nine months while working at the Tianye Packing Factory on the outskirts of Beijing since March 2001. The woman farmer from the Chongqing Municipality in Southwest China was 26 when she died later that same year, leaving behind a three-year-old daughter and aged parents.
"If only I could have anticipated the result, I would never have let her take that job," reflects her husband, Xiao Peng, a crane operator at a construction site outside Beijing.
Poisoned by glue
The glue used at Tianye, a private enterprise, had a strong odour, which constantly made Wang dizzy and nauseous. Four months later, her skin was marked by red patches. Her gums frequently bled for no reason, and her periods lasted much longer than usual.
But she did not have the faintest idea about benzene poisoning or other occupational diseases until she passed out in December 2001 and was rushed to a local hospital. Soon after, another 16 of her workmates, all female, were also hospitalized in rapid succession.
As Wang had taken the job using another woman's ID, Tianye refused to cover her medical expenses. Her family could not afford the monthly 4,000 yuan (US$483) in fees for the blood transfusions and medicines she needed, let alone a bone marrow transplant 10 times as costly. She stayed in hospital for just two weeks before she was taken home. She died two months later.
Even so, says the husband, who earns 1,000 yuan (US$121) a month, the family was already running up a debt of more than 10,000 yuan (US$1,208) for Wang's hospitalization.
Similar financial difficulties also cost the life of Jia Hongxia, one of Wang's colleagues who also suffered benzene poisoning. The other 15 victims are still undergoing medical treatment, which includes routine blood transfusions. "Their lives would be cut short if they discontinued the treatment," warns Dr Hao Fengtong of Beijing Chaoyang Hospital, which is known for its expertise in handling occupational diseases.
When Zhi Shasha, a lawyer in Beijing, learned about these cases and Tianye's poor record of labour protections, she contacted Xiao Peng and other surviving victims to offer legal advice and services free of charge.
With Zhi's assistance, Xiao Peng and eight other victims filed a lawsuit against Tianye with the Fengtai District Court. Six months later, the court sentenced Song Weixing, Tianye's manager, and Zhou Yibin, its director, to four years' imprisonment, and ordered Tianye to indemnify the nine plaintiffs with compensation awards ranging from 11,094 yuan (US$1,341) to 139,073 yuan (US$16,826).
China's Law of Occupational Disease Prevention and Treatment went into effect on May 1, 2002, as a legal guarantee to check the incidence of occupational diseases due to neglect of protective measures for workers as at Tianye.
In enforcing the law, says Zhang Chengfu, director of the Labour Protection Department of the All-China Federation of Trade Unions, special attention must be paid to private enterprises, where working conditions are often rather substandard.
"Quite a few owners of private enterprises do not want to put any money into labour protection measures," he says. "For instance, workers at some clothing factories could be easily exposed to poisonous compounds, such as formamide as used in wash-and-wear material, when they handle them without wearing protective gloves."
Protection underway
An inspection conducted by the Ministry of Health in 2001 found occupational diseases caused by lax safety measures in 83 percent of the private enterprises surveyed in 15 provinces. Dust particles in the air far surpassed the national standard in more than 90 percent of the companies visited, while 60 percent had no labour protection facilities or equipment whatsoever.
This has led to an alarming rebound in occupational diseases in China, says Dr Hao. He points out that the spectrum of occupation-related diseases has dramatically increased in terms of variety - whereas 14 such diseases were recognized in 1957, "we can now identify 115 kinds, including pneumoconiosis, anthracosis, hexane poisoning", he says.
Based on this finding, the doctor warns that occupational diseases could "spread more rapidly in the next 10 years if absolute action is not taken to curb it immediately".
With the implementation of the law on occupational diseases, action is finally being taken.
Last September, the Ministry of Health issued a mandate requiring business owners in seven sectors, including shoe, luggage, furniture and toy manufacturing, to provide their employees with regular physical check-ups.
And again this month, the ministry issued an emergency document setting in motion a national inspection and supervision campaign on workers' health, as well as an assortment of measures to be taken by employers to ensure the safety of their workers.
Employers must bear the costs of the check-ups and of any medical treatment necessary in cases where occupation-related diseases are contracted, according to the document.
There are doubts about whether the mandate and other labour protection laws will be observed by those "greedy, money-focused employers", as Li, a legal worker in Beijing who declined to give her first name, puts it. "Although the law stipulates that all workers be notified of the possible hazards involved in their work and provided with protective equipment plus regular training and physical check-ups, they (employers) can simply ignore it," she says.
To deal with this problem, some local governments have begun to penalize such offenders. In Shenzhen, Guangdong Province, a foreign-funded electronics firm was fined 100,000 yuan (US$12,090) for the death of a 17-year-old woman worker. She was diagnosed with toxicodermatitis and hepatitis 23 days after she started working with chloroethylene as a cleansing compound.
For failing to provide up-to-standard protective measures, the company was ordered to pay an additional 62,000 yuan (US$7,500) to the victim's family together with 200,000 yuan (US$24,160) in compensation, according to the local government.
"After that, the company improved its working conditions, which cost it a mere 36,000 yuan (US$4,350)," says a local official. "The penalty is to make employers realize that it pays to observe labour protection measures."
Enterprises that fail to guarantee labour protections will be ordered to halt production or even be forced to close.
By last December, 4,333 enterprises in China had been asked to suspend production until they improved their labour protection measures. Another 918 enterprises were closed and 4,357 received a warning following an inspection of 48,868 enterprises by the national health and labour authorities.
According to the provincial health department of Guangdong, more than one million enterprises of all description are operating in the province, with up to four million workers routinely exposed to workplace hazards and some 800 occupational diseases occurring annually, the most of any province in the nation.
In response, the provincial government has invested 40 million yuan (US$4.84 million) in consolidating its occupational disease prevention institutions and facilities to guarantee labour protections.
At the same time, workers are being encouraged to cultivate their awareness of their legal rights to protection regarding labour hazards. But this is not an easy task.
As Zhi Shasha, the Beijing lawyer, observes, "My clients are a group of farmers, with no more than nine years of schooling at best. They have difficulty comprehending some of the legal terms, not to mention using them to defend themselves."
Nevertheless, legal literacy is a must, she says. "If workers do not learn to protect themselves through the law and if society fails to create a favourable legal environment for them, then the law is just a castle in the air."
Zheng Shangyuan, associate professor of law with China University of Politic Science and Law, sees loopholes in the new occupational disease law, especially in terms of prevention. That partly explains why "people only file lawsuits after the harm is done", he says.
It may take a while for enforcement of the law to be perfected in practice. But, as Zhi puts it, "We still have a long way to go to combat occupational diseases, but we are already on the way."
(China Daily August 15, 2003)