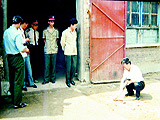 A Japanese investigation team has arrived in Shijiazhuang, capital city of north China's Hebei Province to join Chinese experts to deal with the chemical weapons discarded by Japanese troops during their invasion of China between 1937 and 1945.
Since their arrival at Shijiazhuang on September 5th, Japanese investigators have been commuting between the capital city and Luquan City, where 52 gas bombs found 12 years ago are sealed up for safekeeping. They are working with Chinese experts to dispose of these weapons in a way that is 100 per cent safe.
The discovery of the gas bombs in 1991 brought back vivid memories for one local resident. A villager said:" They were left by the Japanese. I remember a lot of Japanese were living in the town when I was a teenager."
Chinese experts have already established that the abandoned bombs contain toxins that suffocate people. According to a local middle school instructor, some of the people who handled the bombs when they were found are still suffering symptoms of some degree of poisoning.
Zhang said: "Some of them have eye problems, some have nausea problems. But no serious symptoms have emerged so far."
Japanese chemical weapons have so far been discovered in more than ten provinces in China. And these chemical weapons posed a potential danger to public health and even lives.
(CCTV.com September 9, 2003)