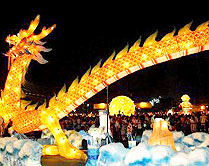 Thursday was the traditional Chinese Mid-Autumn Festival, an occasion of thanks-giving and family reunion. Across the country, and overseas, Chinese people celebrated the event in many and varied ways under the full moon.
Fireworks and pleasure boats are just some of the newer items on the holiday menu. But some traditions still prevail around the country. The people of Chengdu make paper lanterns and float them down the river, praying for safety and harmony for their families.
In Nanjing, people climb Lion Mountain to watch the full moon and city lights. In Shanghai, poetry lovers gather amongst the flowers at Guilin Park to recite poems about the moon and enjoy green tea. In less fortunate areas, nobody has been forgotten.
Government officials in Inner Mongolia, Shanxi and Anhui have been visiting the homes of victims of recent tragedies, bringing them moon cakes, the traditional delicacy of the festival.
In the Hong Kong Special Administrative region, hundreds of thousands of Hong Kong residents walked in parks, and along the seaside and streets to soak up the festival atmosphere.
At Hong Kong's Victoria Park, a large-scale lantern show attracted at least 150,000 Hong Kong residents.
Celebrations were also held in Britain, where the Chinese Embassy in London held a banquet in honor of teaching staff for the promotion of simplified Chinese characters. Officials with the embassy said China would increase support to their work.
(CCTV.com September 12, 2003)