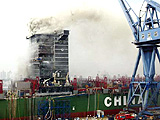 Firefighter Chen Huawen died while he and his colleagues were trying to extinguish a ship fire at a port in Shanghai yesterday morning.
Another firefighter was injured in the fire, which started at 9 am and continued burning for 90 minutes.
The shanghai Fire Control Bureau assigned 300 firefighters and 35 fire engines to the ship after receiving an emergency report.
They succeeded in putting out the fire before it could reach one of the vessel's 50-ton fuel tanks.
The ship that caught fire is still under construction and located at the port along Pudong Road N. The Shanghai Dongyun Ship Engineering Co is the registered owner. The load capacity of the giant vessel is 4,100 TEUs (20-foot equivalent units).
Local authorities said they are still investigating the cause of the accident.
Chen died when he was in the ship's lower decks, where the temperature was estimated to reach more than 200 degrees and thick smoke created severe difficulties for firefighters.
The bureau yesterday didn't provide much information about Chen -- from the Shanghai Jinqiao Fire Control Team -- but did say that he is a member of the Communist Party of China and belongs to the chemical fire squad.
The latest ship fire in Shanghai occurred in February, when a cargo vessel caught fire as it anchored along the Huangpu River, burning for more than four hours and killing one worker on the vessel.
On Monday, Shanghai's firefighters finished a drill at the Shanghai Port.
Shanghai will launch at least one major drill targeting ship fires every year.
Last year, there were 5,983 fires in the city, killing 39 and injuring 58. In July alone, 606 fires occurred, up 17 percent from a month earlier, in which one died and four were hurt.
(eastday.com September 19, 2003)