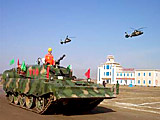 Passengers were walking out of a local railway station, when frontier police appeared and began to battle a group of terrorists, who set off explosives, killing some police officers and a few of their own.
This was the scenario on Tuesday during an anti-terrorism exercise in Hohhot, capital of Inner Mongolia Autonomous Region.
The participants performed a series of programs, combating terrorists who were trying to sneak into the Chinese territory, set off bombs, attack a motorcade, use chemical weapons, hold hostages, and hijack an aircraft.
It is the first ever such exercise in Inner Mongolia.
Over 2,000 police officers participated in the exercise, attended by officials from other parts of the country, including Beijing, the national capital, and Shenzhen, the country's first special economic zone.
(Xinhua News Agency September 23, 2003)