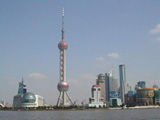 Big changes are in store for English-language television in Shanghai.
Shanghai Media Group is planning to launch a new all-English-language TV channel, possibly next year.
"The channel will likely be broadcast first to audiences in China, then gradually expanded to international audiences," said a producer of English programs at Shanghai Media Group, who asked not to be named.
The channel would be the second all-English TV broadcaster in China, following China Central Television's Channel 9.
While the media group is still conducting feasibility studies before deciding for certain that it will set up the new channel, it has already taken steps to prepare for the launch.
The group has renamed its Shanghai Broadcasting Network -- now calling it Shanghai Dragon TV -- and has moved that channel's best-known English program "News at Ten."
Starting today, the show will be broadcast on Shanghai Television Business Channel at 10 pm and repeat at 6 am the next day on Dragon TV. The business channel is also owned by Shanghai Media Group.
While rumors circulate that changes are also ahead for the station's two other English-language productions -- "City Beat" and "Getaway" -- the broadcaster hasn't announced what it plans to do with the shows.
"The reduction of English programing on Dragon TV is actually one move to prepare for the launch of the all-English channel," the anonymous producer said.
Dragon TV will revamp its entire line-up of shows to attract a bigger and younger audience.
"The new programs will feature a distinctive style fitting the image of Shanghai and we will focus on news reporting and entertainment to target professionals -- young professionals in particular," said Chen Liang, Dragon TV's executive director.
Shanghai Media Group is the second-largest media conglomerate on the mainland behind China Central Television. It currently owns two TV stations, two radio stations and several performance troupes.
(eastday.com October 22, 2003)