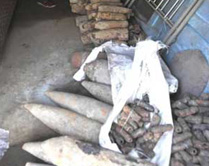 A panel of 33 Japanese experts and technicians is conducting an operation to seal up barrels of chemicals left by invading Japanese troops during World War II in China's northeast.
They are working in conjunction with four officials from the United Nations and more than 100 Chinese officials and experts.
They started on Saturday in Qiqihar in Heilongjiang Province. Over the next few weeks, they plan to seal up about 770 abandoned barrels, which were found earlier this year in the city and other areas in northeastern China.
The barrels have posed a constant danger for people living or working near them.
One person died and 42 were injured after drums of the abandoned mustard gas were dug up and began leaking at a construction site in Qiqihar on August 4.
In 1996, leaking mustard gas claimed one life and injured another person in the province's Dongning, which remained largely unknown outside of the city, according to Chinese lawyer Su Xiangxiang, who represents people who were victims of the abandoned gas.
Su said besides further investigations, both Chinese and Japanese lawyers will provide victims and their relatives with legal support.
He and others have plans to go to Dongning later in the month to gather more information about the deserted chemicals. Su said lawyers will be accompanied by two Japanese veterans aged over 80, who both participated in burying the chemicals during the 1937-45 war.
After the Japanese Government decided to offer 300 million yen (US$2.7 million) to China as compensation, lawyers representing the victims of the August 4 leak suspended the majority of their work. Any future legal action will be dictated by the victims and their families, Su said.
According to a survey by Beijing-based China Youth Daily, more than 80 percent of young Chinese have changed their opinion about Japan in the wake of the August leak and the unsatisfactory response by the Japanese Government to resolve the issue.
(China Daily November 10, 2003)