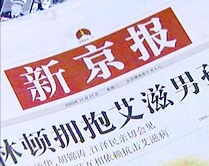 Beijing's news hungry citizens now have something new to read over their soymilk and fried bread. Xin Jingbao was launched on Tuesday in Beijing by the Guangming Daily and Nanfang Daily. It's hoped that the marriage of two publishers from different parts of the country will herald further press reforms in China.
Good news for the capital's information junkies, Beijing' s brand new daily newspaper rolled off the printing presses on Tuesday. On its first day, 500,000 copies of Xin Jingbao were printed and sent to newsstands all over the capital. The paper is jointly published by Guangdong's Nanfang Daily group and Beijing's Guangming Daily Group. Despite being over 2000 kilometers away from each other the paper's editor thinks the marriage will work.
According to Dai Zigeng, chief editor of Xin Jingbao Paper, said, "By opening the newspaper industry to the world under WTO agreement, the establishment of conglomerates is inevitable, the press is part of it. But it is a difficult start for us."
As the mouthpiece of both state and local government, Chinese papers traditionally have strong ties to their location. However, a new regulation published by the State Administration of Press and Publication in July changed the operation of over 2,000 Chinese newspapers. No subsidies were given to most papers and no mandatory subscription is allowed.
"It is a milestone... cultural areas," commented Steven Dong, Senior lecturer at Tsinghua University.
The newly-launched Xin Jingbao is just another contender in the already topsy-turvy newspaper marketplace. One of the publishers of the new paper is from Guangdong, a press reform pioneer in south China. Beijing-based Nanfang Daily now has 6 newspapers and one magazine and is still eyeing opportunities for expansion. Its marriage with the State-run Guangming Daily is a free rendezvous rather than an administrative maneuver.
"They have to survive...development," Dong added.
Without the lethargy of red-tape bureaucracy associated with state-run agencies, the newspaper editing office is a passionate place. But more importantly, these people are the real forcing change in the press.
The Chinese press has always been a loud voice behind the push for reforms in China, but this time the press itself faces change and challenge. Already fierce market competition has begun.
(CCTV.com November 12, 2003)