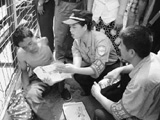 Local police suggested to a group of city government advisers Wednesday that Shanghai should set up a special task force to control its growing problem with homeless people and beggars.
"We are coping with an increasing army of beggars on Shanghai streets," senior police officer Pan Zihan told members of the Shanghai People's Political Consultative Congress Wednesday.
The situation is currently monitored by three government departments -- the Public Security Bureau, the Civil Affairs Bureau and the Construction and Management Commission.
Pan suggested the government set up one team with officials from the three departments to control the situation and seek solutions to the growing number of beggars and homeless people on local streets.
When patrolling streets, police officers often try to persuade beggars to seek government aid rather than begging on the streets, but they can't force the beggars to stop soliciting money.
Beggars and homeless people can spend up to 10 days at a time living in one of the city's 20 aid stations while receiving meals, medical assistance and money to return to their hometowns if they are from outside of the city, as most of them are.
A growing number of beggars have popped up on downtown streets recently, raising complaints from business owners and residents.
In some cases, police have found juveniles who were forced into begging by criminal gangs.
Since the State Council issued a regulation in August abandoning forced deportation, government officials can only persuade, not force, beggars and vagrants to give up street life for government assistance.
"The problem is that most beggars are not willing to leave the streets, because they think they can make more money by begging," Pan said.
While the city's aid stations provide the beggars with about 10 yuan (US$1.2) worth of necessities a day, some can earn several hundred yuan on a good day working the streets, said Pan.
From august until the end of November, Shanghai's aid stations have helped 2,901 street people, 804 of whom admitted to making a living by begging.
The city government advisers did not comment on the police proposal.
(eastday.com December 11, 2003)