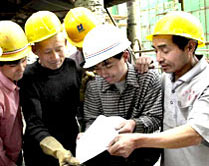 The city government of Beijing declared war against delayed payment in the construction sector, in an effort to maintain social stability and regularize the lucrative, booming real estate industry.
Eleven developers were punished by the government for failure to pay contractors on time, while transient workers got back 1.26 billion yuan (US$152 million) owed by contractors with the help of the government on Friday.
"I'm the general representative of 850,000 transient construction workers in the city and I won't allow anyone to refuse to pay them," said Liu Yongfu, director of the urban construction committee of the city.
Transient laborers, mostly from rural villages, are the most vulnerable regarding the issue of delayed payment.
For years, the whole country has been plagued with the problem of delayed payment by developers, who often fail to pay contractors on time, and contractors, who always try to pay employees, mostly transients from remote villages, as little and as tardily as possible.
Beijing is no exception. While contractors and transient laborers keep flooding into to Beijing, China's national capital and the host of the 2008 Olympic Games, they both neglected the huge risk of delayed payment.
In 2003, some 200 billion yuan (US$24 billion) has been invested in the city's booming, lucrative real estate sector for the construction of residential houses and office buildings that cover 100 million square meters.
However, the owners of completed building projects in the city owe 23.5 billion yuan (US$2.84 billion) to contractors, while the contractors owe as much as 3 billion yuan (US$362 million) to their employees.
As part of the efforts to maintain social stability throughout the country, the central government has ordered local governments to move on to deal with the issue as quickly as possible.
The problem becomes even more eye-catching at the end of a year, as the majority of rural transients go home for family reunions in the traditional Chinese lunar New Year, the Spring Festival. Delayed payment may force some penniless transient workers to resort to theft or robbery.
(Xinhua News Agency December 13, 2003)