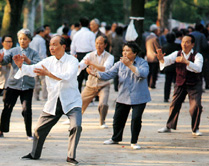 Roughly half of Chinese urban residents believed their living standards have been improved over the past two years, and medicare is now the greatest source of dissatisfaction for urban dwellers, a recent survey showed.
But while residents with higher incomes were more prone to be satisfied, a significant number of lower income people said their living conditions have actually deteriorated.
Beijing Mainland Marketing Research Co surveyed 11,000 people aged over 18 in 31 municipalities, capitals of provinces and autonomous regions last October about their current living situation and expectations for the future.
The survey found that 57.1 percent of all those surveyed said their living standards have improved somewhat.
However, there was still a sizable number saying their current life is not satisfactory and needs to be further improved.
Medicare topped the list as the most pressing issue. Social welfare, social security, employment, housing and education concerns followed.
The problem of medicare is especially trying for middle-aged and elderly people. The survey found 25 percent of the middle-aged people and 31 percent of the elderly consider it the major difficulty in daily life.
For younger participants in the survey, the biggest obstacle in life is housing, as 23 percent of the surveyed young people reported.
For the middle-aged group, the high cost of their children's education is a major issue.
Thirty percent of respondents list education as their main concern.
(China Daily January 6, 2004)