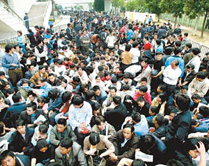 Travelers will make an unprecedented 1.89 billion journeys by bus, train, air or ship during the peak travel season, which will start Wednesday, in the run-up to the Spring Festival holiday season.
The projected figure is up 60 million from last year's Spring Festival rush, the Beijing Youth Daily reported, quoting a government seminar on the Spring Festival travel arrangements.
Guangdong, Beijing and Shanghai will see the most travelers before the Spring Festival Jan. 22 and Chengdu, Chongqing, Wuhan, Nanchang will experience the travel rush after the Spring Festival.
Guangdong authorities estimate that more than 110 million people will leave the province during the peak season, up 4.3 percent from last year.
Guangdong will put more than 44,000 coaches and 175 ships and add 58 pairs of temporary train services to ease the travel pressure. Other places in the nation will aid Guangdong with planes, trains, and coaches.
During peak hours, the Guangzhou-based Baiyun Airport will see one flight taking off or landing every two minutes.
The Guangzhou Railway Station, meanwhile, will see one train arriving or leaving the station every 3.3 minutes.
Guangdong faces a tough task handling the Spring Festival rush this year, as this year's Spring Festival happens to be near New Year's Day and the start of the school winter holiday. The new SARS case found in Guangzhou will add to the difficulties.
Meanwhile, meteorologists expect rain and cold weather during the peak season raising the possibility of traffic problems.
The Ministry of Railways had arranged 150 temporary passenger trains before the Spring Festival and 210 temporary trains after, 25 more than last year, said Vice Minister Hu Yadong.
The General Administration of Civil Aviation (CAAC) said it would add 323 daily flights from Jan. 22 to 28 to meet the demand.
The peak travel season will last 40 days.
(Xinhua News Agency January 7, 2004)