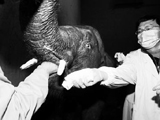 Oral surgeons from the Xuhui District Dental Center in Shanghai fit a very large patient with a false tooth Monday morning.
The dentists were working on Yuanyuan, a 2 1/2-year-old male Asian elephant at the Shanghai Zoo.
With the help of the zoo's veterinarians, dentists inserted a prepared artificial tooth into Yuanyuan's mouth and fixed it in place using special glue.
As the procedure was done without any anesthesia, doctors needed 10 attempts to complete the procedure successfully.
Yuanyuan broke one of his left teeth when playing mischievously last October. The accident resulted in the loss of part of the tooth, which is 6.5 centimeters in length, and the exposure of his gums.
Veterinarians disinfected the injury immediately and kept a close eye on Yuanyuan, zoo officials said.
Although no infection set in, the veterinarians decided to fill the tooth, fearing that if they didn't, the exposed gums may be hurt in the future.
The invited dentists held group consultations and they made a model of Yuanyuan's broken tooth in December.
"The new tooth covers the gums and stops the possibility of infection," said one of the zoo's veterinarians.
(eastday.com January 13, 2004)