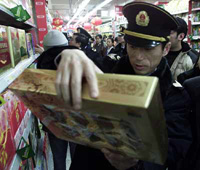 Food such as candied fruit and nuts sold in bulk are being scrutinized by health supervisors to prevent secondary pollution.
Beijing municipal food inspectors Tuesday checked one of the city's Carrefour supermarkets over the questionable hygienic conditions involving loose, unpackaged food.
They said that every container of loose food must have a cover added, and consumers cannot directly touch the food but must ask special attendants to handle the goods they want.
Cai Changjing, an official with the Beijing Health Bureau, said the measures taken by the supermarket generally meet the requirements of a newly-implemented rule which took effect on January 1.
However, the tags posted on plastic bags failed to have necessary information about when the food was produced.
"Loose food is much more likely to be contaminated if it is left to the open air, and consumers often neglect to notice the date stamping," said Cai.
He said his bureau would urge the supermarket to make more efforts, according to the new rules issued by the Ministry of Health.
Actually, food checks Tuesday were just a small part of the 40-day-long food inspection process, which started on December 25. The inspections are aimed at ensuring a safe food market during the coming Spring Festival, China's Lunar New Year, which falls on January 22. The inspection group Tuesday also visited a large open market primarily to check vegetables and fruit for residual amounts of pesticides.
There is a residue test center stationed in the market. According to a health worker at the center, they randomly choose 40 samples of vegetables and fruit every day, and more than 99 percent of the products met national standards last year.
So far, they have not found any goods that did not meet standards this year, said the health worker who refused to be identified.
Deng Ying, another official with the health bureau, said the citywide food examination covers a wide range of food markets, hotels, restaurants and travel destinations.
He said by the end of last week, his bureau had revoked the licenses of six food suppliers and urged more than 280 food firms to make improvement within a certain period.
(China Daily January 14, 2004)