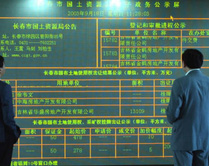 China's land and resources authority Tuesday called on its staff to institute new measures to crack down on corruption and inefficiency.
The measures stipulate that land and resources officials at all levels must publish specific standards and procedures on the use and rights of pieces of land and mineral resources.
"It will henceforth be the obligation of our officials to respond to people's doubts and objections on published results within 30 days," said Meng Xianlai, a leading official with the Ministry of Land and Resources in charge of the work.
Meng spoke at a news conference at the ministry: "No one can turn a deaf ear without a proper explanation."
The new measures become effective on March 1.
Meng believes the enhanced supervision is essential for the ministry's fight against corruption and poor work efficiency. The measures also ban officials from designating intermediary agencies -- some of which included evaluators who were even family members -- for land and mineral development projects undergoing governmental exams.
In addition to officially revoking the rights of the officials to designate intermediary agencies, the new measures impose a kind of "challenge system" by forbidding spouses and children of officials to work with agencies having direct interest in projects under the charge of officials.
Cultivating independent, professional and reliable intermediary agencies is an essential task for the country in order to develop a healthy land market, said Yue Xiaowu, a ministry Land Use Department official.
Developing a market mechanism to better allocate the country's land resources has been a priority of the ministry since it was established in 1998.
The new rules also forbid officials to receive personal benefits, such as cash, stocks or bonds from the parties under their administration. They are also not allowed to participate in banquets that might elicit unfair administrative decisions.
"Those defying the new measures will get administrative punishment and even criminal punishments in more severe cases," Meng said.
The country experienced 168,000 violations of its land laws last year.
(China Daily February 4, 2004)