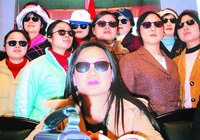 Misbehaving husbands, beware.
A firm of investigators had created a team of female private eyes to help Chinese wives catch cheating mates and gather proof of domestic violence, its founder said Wednesday.
The 16-member team would help clients assert their rights in divorce cases, especially to family property, said the president of Chengdu Debang Business Consulting Services Corp.
Most of the women on the team had suffered marital infidelity or other family problems, said the president. He would give only his surname, Liu, saying he wanted to help the team work undetected.
Newspaper photographs showed the women at a news conference in Chengdu smiling and wearing sunglasses to obscure their identities.
Surveys by the official All-China Women's Federation routinely show extramarital affairs and domestic violence to be Chinese women's greatest concerns.
Divorced women often get little of the family money.
Liu said his company set up the investigation team after getting more than 100 calls a day from women with marital problems.
He would not say how it would work, but said investigators would be "more flexible in looking for evidence."
One investigator, Zhang Jing, told Xinhua News Agency that she was inspired to join the team after a lawyer helped her recover assets hidden by her husband during their divorce.
Zhang said they broke up after he took a mistress.
"During our divorce, he tried a million ways to hide assets," she was quoted as saying. "I joined the women's investigation team to help my sisters who find themselves in the same situation."

(Agencies via Shenzhen Daily February 19, 2004)