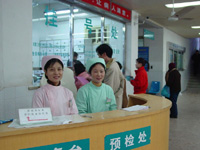 Medical experts are urging more local hospitals to set up their own ethics committees to oversee clinical trials and experimental procedures.
Such committees have been a routine part of hospital administration in the West since the 1980s. They generally approve all clinical experiments for new drugs or equipment and have a say in any major ethical problems doctors face.
China lacks any strict regulations requiring all hospitals to set up such a committee, however, according to local health experts.
Only five or six hospitals in the city have set up an ethics committee that strictly performs its duties, they said.
"While the health bureau requires that all clinical experiments undergo an ethics inspection, some hospitals just organize a so-called committee or authorize certain departments to conduct a very simple check," said Mao Peipei of the Shanghai Medical Ethics Association.
"In order to further promote the concept, we will launch a study course this year to help more hospitals establish committees that truly perform their duties," she added.
Shanghai Shuguang Hospital is one of the few hospitals in the city with a strong ethics committee.
"The committee has regular meeting every month. We normally discuss applications for one or two clinical experiments at each meeting," said Zhu Kangmei of Shuguang hospital, which established its committee in 1999.
The hospital's committee includes doctors, neighborhood community officials, sociology professors, non-medical staff and a lawyer, according to Zhu.
"These people, as laymen, pay more attention to ethical issues and respect to patients' rights," she added.
The committee has already set up several rules to protect patients' privacy and rights, said Zhu.
"It has required doctors and nurses not to discuss ailments in front of patients, not to call patients by their bed number and not to write a patient's diseases on the chart hanging on the bed," Zhu said. "All these efforts have received a good response from patients."
Several hospitals without a committee said they have set up departments to take care of moral issues.
"To be frank, an ethics committee does have an active effect on improving medical services," said Lu Ye, a spokeswoman for Shanghai Yangpu District Central Hospital, a district-based facility that isn't allowed to do any medical experiments.
"If there are complaints about service, we have special officials to solve the problems."
(eastday.com February 23, 2004)