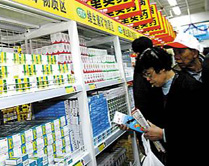 Shuangling Gubensan, touted as a panacea to cure cancer, topped the 2003 blacklist issued by the State Food and Drug Administration (FDA) Tuesday.
The list names 23 drug brands that have advertised illegally in the mass media.
The violations against the Advertisement Law and related regulations varied. Some drug makers, for example, exaggerated or falsified the curative powers of their products, while others counterfeited approval numbers from the drug authority for their ads.
"The illegal ads greatly misled the patients using the drugs, and they also upset the orders of (legitimate) drug ads," said Xing Yong, the FDA's advertisement supervision director.
Xing described the 23 drug makers' acts in launching advertising campaigns as "deplorable," as some placed their ads more than 30 times last year despite warnings from provincial drug supervisory authorities.
Shuangling Gubensan, an over-the-counter drug produced by Green Valley Ltd. in Xi'an, is the most notorious.
The product, formerly named Zhonghua Lingzhibao, or China Ganoderma Lucid Essence, launched 158 ads on the media across the country even though it has been barred from advertising since December 1, 2002. The ads provide exaggerated and false information of the drug's effects, according to the FDA.
"Experts have made it clear Shuangling is a traditional Chinese medicine that can assist in cancer treatments," said Xing. "But it always claims to be a miracle drug to cure cancer."
In the ads placed in national and local newspapers, Shuangling is claimed to be able to kill cancer cells. Its maker has also published stories in which purported cancer patients told their stories of successful recovery thanks to Shuangling.
Drug authorities at all levels revoked 21 approvals for drug advertisements last year, while publicizing more than 6,000 warnings about illegal drug ads.
The efforts will intensify this year, said the administration.
But the problem is that the FDA has no power to yank illegal advertisements. Observers said the industrial and commercial authority and media regulators must take joint action.
In the pursuit of advertising revenue, the media often turn a blind eye to the worthiness of an advertiser and welcome anyone who will pay, said a senior reporter with the state-owned paper Guangming Daily who preferred not to be named.
Even the Party's major paper, the People's Daily, ran Shuangling's ads once after the brand was blacklisted, said the reporter. She admitted the Guangming Daily had also accepted similar ads.
(China Daily February 25, 2004)